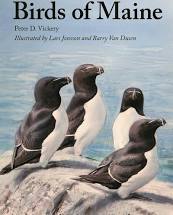 As written on the sleeve of the Birds of Maine by Peter D. Vickery, the last time a comprehensive undertaking was completed covering the birdlife of the State was some 70 years ago. That demonstrates the monumental task of compiling the information needed to complete this lofty tome.
Birds of Maine gives detailed accounts for 464 species recorded in Maine. This is not a field guide or picture book; it is a dense source of information for occurrences of species in the State. For example, if you are interested in the historical breeding record of Golden Eagles in Maine, this is the book for you. In answer to the question, Golden Eagles have not nested in Maine since 1996. In the past there were 10 to 12 nesting pairs. As for me, what could be more fun first thing in the morning than reviewing individual species profiles, such as the sightings for the Little Egret (typically found in Europe, Africa and Asia) at Scarborough Marsh.
Peter Vickery passed away in 2017 before the publishing of the book in 2020 by Princeton University Press. His wife, Barbara Vickery, and Scott Weidensaul are the managing editors with coauthors Charles Duncan, William Sheehan and Jeffrey Wells. The handful of full color paintings help accent the book and are the work of artist Lars Jonsson, including a two-page spread of an Olive-sided Flycatcher. More frequent are the black and white illustrations by Barry Van Dusen.
Any serious Maine bird lover will want a copy of this book for their reference collection.
Andrew Mackie, Executive Director
Get Your Copy and support Conservation in Scarborough
SLT is pleased to offer the Birds of Maine for sale. The cost of the book is $45.00 plus tax ($2.48). All proceeds benefit the conservation work of the Scarborough Land Trust. If interested contact us at admin@scarboroughlandtrust.org or (207) 289-1199. We can arrange a pickup location in Town to save shipping costs, otherwise S&H will be added based upon final destination.